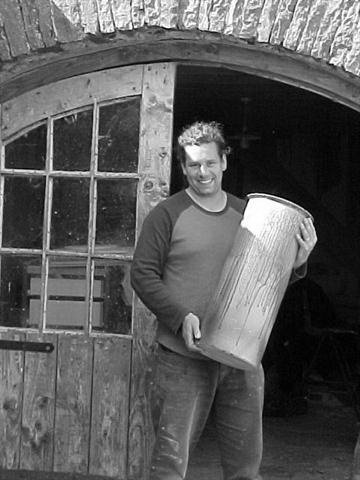 Works in West Wales.
Daniel makes salt-glazed wood-fired ceramics – contemporary, functional, wheel-based forms to be used and enjoyed. He combines traditional and modern ways of working, firing in a 75 cubic foot catenary arched kiln to 1,300 degrees centigrade. These firings produce many original surfaces and colours. His aim is to create works which are individual and original in design and execution.
Awards
1991 Crafts Council 'Setting-up' grant
1994 Prince's Trust 'Partners in Europe' Travel Grant
1996 The Hungarian Ministry of Culture – Prince's Trust 'The Fragile Continent' (Forming links and working with Hungarian artists)
1999 Welsh Arts Council, Craft Bursary
2000 Travel and research award, for travel to Hungary and research development
2000 I.C.S. Ketchkemet, Hungary Scholarship to New Generation
2002 Welsh Arts Council – Professional Development Award
2007 Sponsors Award, Goudse, Holland
2010 Goudse Plateel Award, Goudse, Holland
2011 Development and Research Grant, Welsh Arts Council.
Collections
2000 International Ceramics Centre collection, Ketchkemet, Hungary
2003 British Embassy, St Petersburg, Russia
2005 Adolph Egner, Cologne, Germany
2007 Sponsors Award, Goudse, Holland.