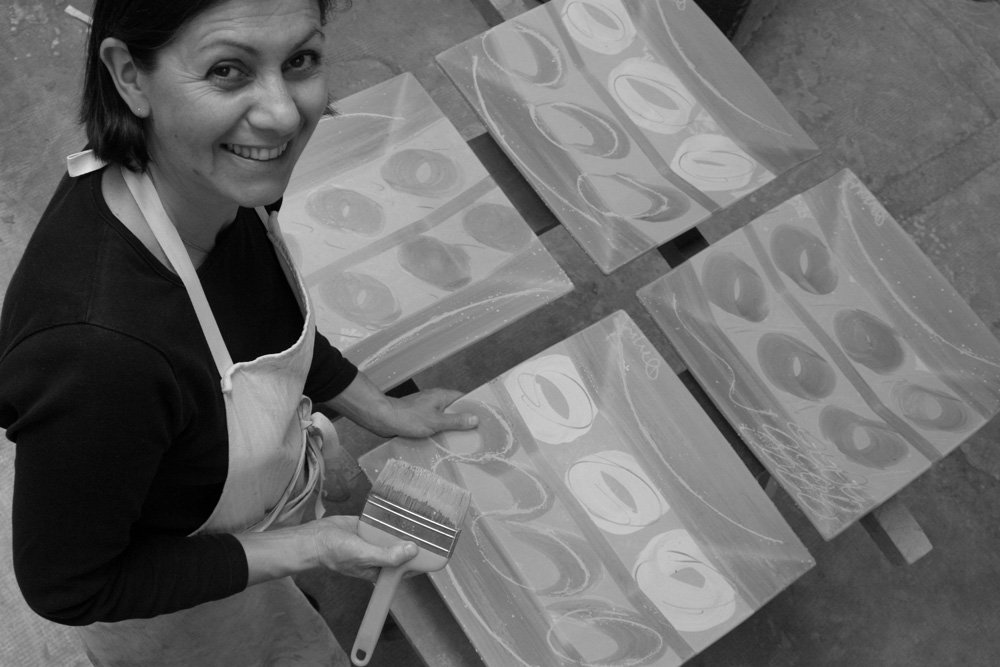 Françoise Dufayard lives and works in Rennes, Brittany, France. During the late 1970s Françoise studied ceramics at the Ateliers de Fontblanche in Vitrolles, then she travelled around Asia (1981-1982). From 1983 to 1987 she worked for Gustave Tiffoche then Suzy Atkins. Subsequently in 1988 she set up her studio at Rennes (Brittany) where she makes open platters, big vases, large dishes and witty teapots, using slipware techniques.
Françoise uses a red Spanish earthenware clay fired to 1,120oC in a 500 litres gas kiln. She has developed a very personal interpretation of terre vernissée, or slipware, which creates a translucence in her work and gives her decoration a quality one sees only in painting; something of a rarity in this medium. This can be attributed in part to her exploration of Eastern ceramics as found on visits to Nepal, India, Burma, Thailand, Japan, Korea, China, Uzbekistan, Tibet and recently Sri Lanka. Her very individual brushstroke can be read as personal reflections of this Eastern influence.
Exhibitions since 1988
U.K., France, Denmark, Germany, Netherlands, India, Ireland, Spain, Japan, Greece.
Public collections
Musée national de céramique, Sèvres (France)
University of Wales, Aberystwyth (U.K.).
Lectures, demonstrations and residencies
2017: Sanskriti Museum (New-Delhi, India): teaching and slide lecture
2009: Sanskriti Museum (New-Delhi, India): residency and slide lecture
2009: « Enfanga't», Girona(Spain): Invited demonstrator, slide lecture, exhibition
2007: 'Aberystwyth International Ceramics Festival' (Wales, U.K.), invited demonstrator and slide lecture ('A Journey in Clay')
2006: 'Earth & Fire', Rufford Craft Centre (U.K.): Invited demonstrator
2005 to 2016: 'Art in Action' (U.K.): Invited demonstrator.
Award
2006: SOTHEBY'S Prize – Potfest in the Park (U.K.).
Bibliography (recent)
Firing Kilns by Benedict Brierley, published by Bloomsbury (UK, USA, Australia & India), 2014
Engobes et autres revêtements argileux en céramique by Wolf E. Matthes , published by éditions de la revue de la céramique et du verre (France), 2011
Techniques using slips by John Mathieson, A&C Black (U.K. & USA), 2010
Françoise Dufayard, British Connection by Linda Gardelle in La Revue de la céramique et du verre, N°165 (France), 2009
A journey in Clay by Victoria Eden in Ceramics Art and Perception (Australia & USA) n° 70, 2007.