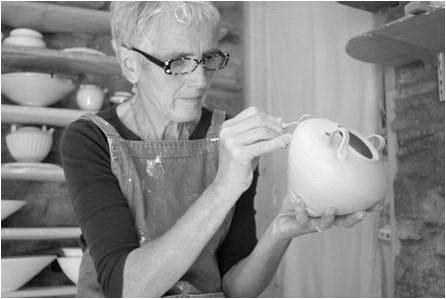 Bridget Drakeford's ceramics range from wide, open bowls to teapots and caddies, with some pieces having innovative decorative detailing in precious metals, hand worked by the artist. All of her pots are graced with a subtlety of finish and sophistication of glaze colour that makes them collectable and sought after.
"After three years taking part-time classes my potting career began in the South West of Scotland in 1976. Learning to make production stoneware for the Scottish market gave me a love of throwing, which is still the aspect of making that I enjoy most. I moved back to England in 1982 where I worked at the Jinney Ring Craft Centre for the next 12 years. Then, in 1994, I was able to set up home and studio in Herefordshire.
"Early in my potting career I explored a variety of styles, but after discovering the beauty of working in porcelain I concentrated exclusively on this material. I have always been drawn to the pots of Geoffrey Whiting and Lucie Rie; a Geoffrey Whiting teapot shows balance, simplicity and function to perfection. These are properties I value and try to achieve in my own work.
"Inspiration has come from the classical forms of both European and Oriental traditions. I draw on their basic simplicity of form and try to reflect this in my own shapes. Usually, I work on a series of pots – teapots, jugs or vases – often developing different finished shapes from the same body form. I turn as little as possible, but I like to obtain thinness and translucency particularly in my bowls. I use both reduction (gas) and oxidised (electric) firings, always on the hunt for the 'perfect' glaze. Gold lustre is sometimes used to finish pieces."
Bridget's work is shown in galleries in Europe, the Middle East and Japan and at major venues throughout the UK. She is a professional member of the Craft Potters Association of Great Britain.